Hostel Dijaški in študentski dom Koper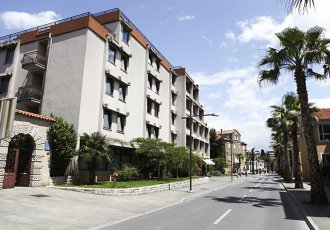 The hostel provides 380 beds. Rooms can be rented in tourist purposes during the summer months (july, august). Accomodation is offered in triple, double and sigle rooms with shared toilets. The hostel provides accomodation for individual guests and organized groups. All guests can use dining room, bar, classrooms, an indoor yard, bicycle shed and other facilities.
The hostel is situated in the heart of Koper in walking distance from seaside resort, nearest beach and local bus transport (500 m from the hostel) and from the bus and railway station (1500 m from the hostel).
Reservations can be made by:
- telephone +386 5 66 26 250 or +386 51 344 989,
- email Ta e-poštni naslov je zaščiten proti smetenju. Potrebujete Javascript za pogled. or
- in person at the reception (from 7 am to 10 pm).
Pricelist is available:
- http://www.ddkoper.si/j3/index.php/tourist-offer/price-list
Bed linen and cleaning are included in the price, but the towels are not included.
Meals Timetable (self-service):
- breakfast: 7.00 - 9.00
- lunch: 12.30 - 15.00
- dinner: 18.30 - 20.00
Payment methods:
- cash,
- credit cards (Visa, Eurocard/Mastercard, American Express, Diners).
Check-in: 2 pm. Check-out: 10 am
Hostel Dijaški in študentski dom Koper is usually open in tourist purposes in July and August.

Koper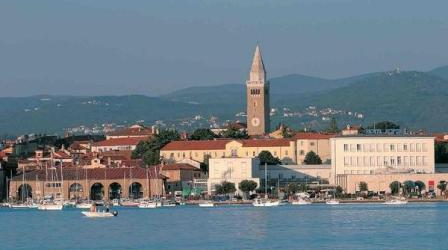 Koper is the cultural and industrial centre od the Slovene coastal region. It has many well-predeved historical monuments from the Romanesque and Gotic period and from later periods as well. The places of the rich families of Koper, bulit by excellent architects, are of particular interest. In the Middle Ages the town was walled and had 12 gates, of which only one, the main gate on Prešeren Square, has ethnological collection on Gramsci Square, archives, a library, and a range of other cultural institutions.
From Koper, other towns on the Slovene coast and villages in the hinterland are easy acessible. In the hinterland a visitor can enjoy well-laid out buildings and streets and fine examples of stone village buildings, drink a glass of home-made vine and dried ham.
Useful contacts: